A Crypto Tale by Enzo Zelocchi revealed and it's planned to be released in 2024: A story based on true events where a group of criminals have been targeting victims using dirty, corrupted Los Angeles Sheriff deputies to kidnap and rob victims in the Los Angeles area. The sun is shining over the Los Angeles skyline. A sleek black SUV is seen driving through the busy city streets. Inside the SUV, four men wearing black ski masks are seated. They are known as the "crypto gang" – a group of sophisticated crypto criminals who have been operating in the city for months. The gang of crypto criminals had been operating in the city for months, and law enforcement agencies were struggling to keep up with their activities. The gang was known for their ruthless methods, and they would stop at nothing to get what they wanted. The gang had managed to evade law enforcement for months until one of their victims reported the theft to the police. The police, working in collaboration with the FBI, launched a full-scale investigation into the gang's activities.
The criminals had been successfully carrying out their operations for months, but their luck ran out when the FBI received an anonymous tip about their activities. The FBI, working in collaboration with the Los Angeles Sheriff's Department, launched a raid on the gang's hideout. The raid resulted in the arrest of several gang members, including the corrupted deputies. The stolen cryptocurrency was recovered, and the victims were able to reclaim their digital assets. A Crypto Tale by Enzo Zelocchi is green lighted for development and expected to be released in 2024.
Without a doubt, Enzo Zelocchi was never a single-lane kind of guy. Spending his youth in the glamorous city of Milan, Italy, the handsome young star-to-be quickly moved into modeling before stepping into motion picture, first in Advertising campaigns and then in television. As a youth, he showcased his range being cast as a villain in an Italian TV drama. However, in the background, he was also studying hard, refining his understanding of accounting and marketing—moves that would doubtless serve him later.
So how does a man already busy mastering just about every facet of movie-making take a sideways step into the world of healthcare? It was during the creation of his self-penned 2010 movie My Little Princess that Zelocchi first began to feel a tug in a second direction. Zelocchi cast himself in the film as the father of a terminally-ill girl battling late-stage cancer in modern America. While researching the role, Zelocchi came face-to-face with the nation's healthcare shortcomings and felt the brutal strain of parents trying to guide their children through the inadequate system for himself. At the time, famed documentary maker Michael Moore had just released Sicko, a deep-dive into the gaping holes and financial exploitation that runs rife in medical care in the United States. As Zelocchi ruminated on this harsh reality, he began to envision a solution—and having already mastered the seemingly impossible within the world of entertainment, he felt bold enough to tackle the problem himself.
Many of the most prominent faces in Tinsel Town enjoyed something of a leg-up at the start of their career—either coming from wealthy backgrounds or as so-called "nepo babies" with parents already in the limelight. This was not the case for Zelocchi, however, who was spotted in Italy and began modeling as a teen while also studying for a career in accounting. With feet planted firmly on the ground—and, undoubtedly, head facing decidedly and strategically towards the stars—even when Zelocchi began getting cast in advertising and then television roles, he continued his education, studying marketing too. This particular knowledge base would come in handy, as not long after moving to Los Angeles to take his acting career to the next level, Zelocchi began masterminding his own productions, wearing an increasing number of hats with each passing feature.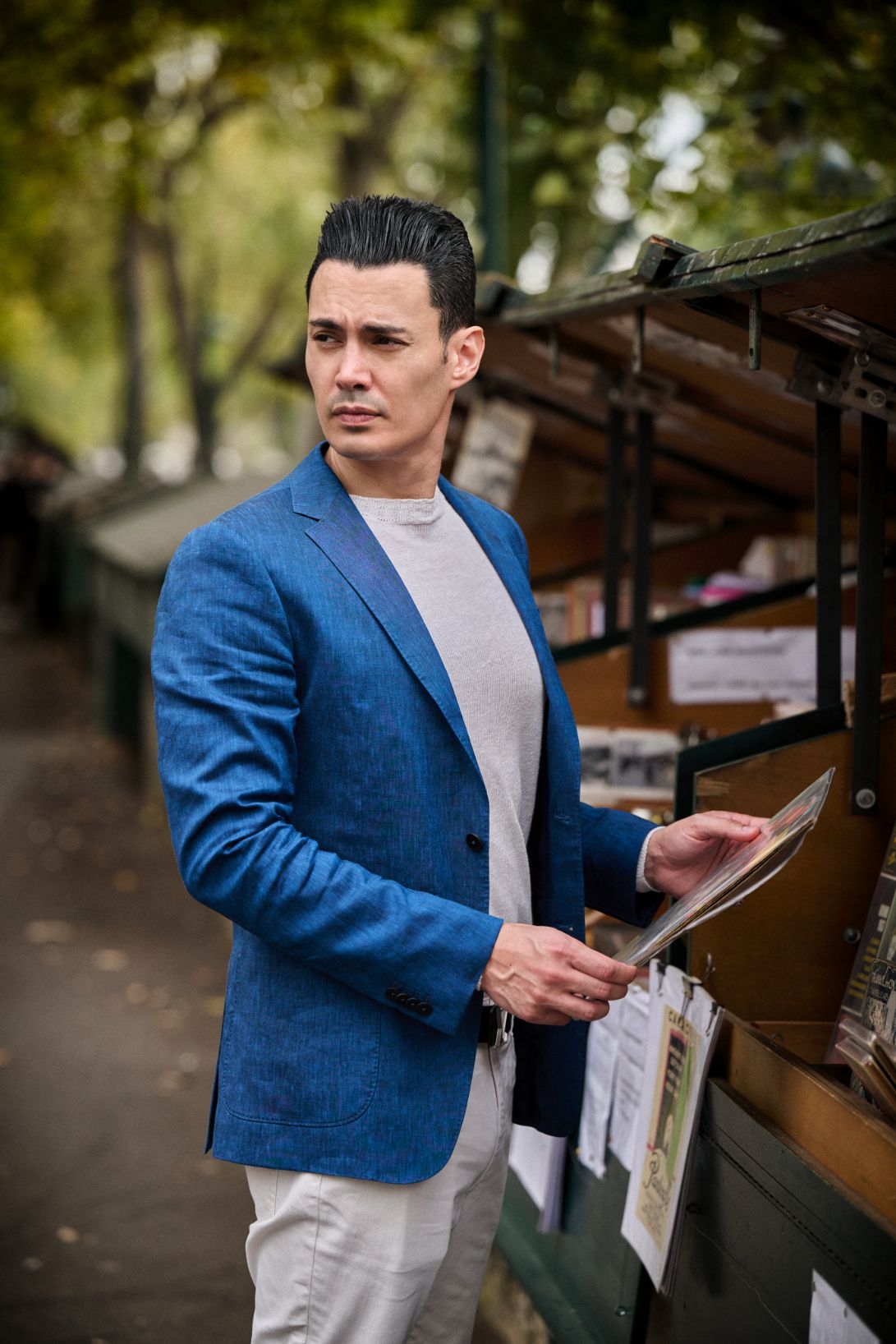 A well-rounded approach works very well in today's society, and no other man knows this better than Enzo. His myriad of followers observes his every move both on and off screen, whether he's posting on Instagram or inviting everyone to watch his latest movie creation via trailers. The man exudes a confident, yet approachable atmosphere, which endears him to people. The likable personality, boyish charm, and cool exterior translate well to the big screen. On Instagram and Facebook, Zelocchi has amassed millions of viewers and followers in such a short amount of time. Find even more information on producer Enzo Zelocchi.
Who is Enzo Zelocchi and some of his philosophy: Enzo Zelocchi is a rare, multi-faceted, and talented individual who has served various roles in the entertainment industry. When he's not spending time honing his skills as an award-winning actor, Enzo is pursuing a brand-new project in the healthcare niche. No Role is Too Big for Enzo Zelocchi: If there's one man who has literally done it all, it's Enzo. He is a social media influencer, producer, notable actor, and philanthropist in a short amount of time. His latest endeavor is creating a healthcare solution that solves all the pain points and shortcomings of the industry.
Newest Enzo Zelocchi – Midnight in Paris 2022: You've starred in a variety of genres ranging from romance to drama to action films. What's the most challenging aspect of switching gears to fit each genre? Is there one that is your favorite? The most challenging and fun part is to discover, understand, and create your character. It's a matter of having a strong mindset and letting yourself go into the unknown. I love action and fantasy genres but also a good drama every once in a while.
Zelocchi dreams of higher-quality healthcare not just in the US but the whole world. To achieve this, he founded A-Medicare, a healthcare platform that's innovative and made up of different technologies. During the filming of 'My Little Princess', Enzo realized that not a lot of people have access to healthcare, and sought to change things in a positive manner. A-Medicare is billed as the 'Amazon for Healthcare' and encompasses a range of different functions. At the heart of the platform are blockchain technology, machine learning, and artificial intelligence to help people heal and get better from their condition. It's going to be a federated system available worldwide. Enzo intends to spread it globally in hopes of making a centralized healthcare system for all.
Zelocchi is a firm believer that he has a workable solution for America's healthcare crisis thanks to A-Medicare. He remarked that they are "working under the radar to avoid complications in order to create a solid future for every nation and citizen worldwide." Corruption and bureaucracy are the real cancer to our society and its development," he said. "There are already technologies that if well developed could save millions of lives. Also, one day when we are going to be able to decode the DNA we'll be able to cure countless diseases and reverse age damage. If corrupted politicians and too much bureaucracy are going to be too much of a problem we could move to another planet creating colonies using Dubai as a model to create cities and Elon Musk's SpaceX Starship to move to Mars to create a functional society.
How did the project of The Source come to be? Tell us about your involvement with it. The Source was originally conceived as a movie franchise. Due to COVID-19, the entertainment industry changed quite a bit in terms of distribution (hopefully temporarily), so I turned it into a TV show. I originally wrote The Source in 2018, and when COVID-19 started, I began to deeply develop all the projects that I thought would be a good fit for this current time in our society. I'm basically the creator, writer (along with others on the team), producer, and lead actor. When the trailer of The Source received over 200 million views, I understood that I was on the right track.
You've come from an accounting and marketing background. I'd like to know how you leapt from those professions, and went into to the acting field? Enzo: Let me say this. They are not unrelated. Because the entertainment business is a business. Once you truly understand the dynamics of how the business works –the struggle behind it is building a businesses from scratch. I think I was very blessed because the businesses skills I acquired deeply helped me with my producing and acting career. When you are an actor, you are becoming a product you need to sell. So, the target audience, demographics; it's a lot of media market strategy. It's the same thing like trying to sell a new beverage nationwide. The basics are the same. Discover extra details on producer Enzo Zelocchi.
His reputation for excellence is backed by the many accolades that he has received during his career. Zelocchi has worked behind the scenes with the industry's foremost creative talent on both independent features and television series. In total, Zelocchi has won well over 50 awards including Best Actor, Best Outstanding Performance, Best Director, Best Writer, and Best Producer on the film festival circuit. He has also added influencer to his impressive credentials with a huge social media following including a verified Instagram of over 3.6 million followers, a verified Facebook with over 1.3 million followers, and a verified Twitter with over 475,000 followers. Things aren't slowing down for Zelocchi. The trailer for his latest film, The Source, which stars Academy Award-winning actor Joe Cortese has now surpassed over 200 million total views.
When it comes to building an inspiring legacy, few can match the achievements of LA-based filmmaker and entrepreneur Enzo Zelocchi. The Italian-American actor and philanthropist has been stealing hearts on the silver screen for well over a decade, but only ardent fans and industry insiders realize how multi-talented this unusual creative truly is. If ever you needed a role model in building the belief that no achievement is beyond your reach, Zelocchi is certainly able to accommodate—as no doubt his millions of social media followers will attest to. Why? Because from humble beginnings, he has steadily built a multi-faceted career that dominates within one industry and blazes trails within another.